Meet Alicia Walker, FNP-BC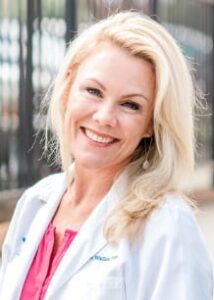 As a board-certified family nurse practitioner with over 18 years of experience, Alicia Walker, FNP-BC is a highly skilled professional working with our breast surgeons at Richmond Aesthetic Surgery. Since joining our team in 2020, Alicia has assisted Dr. Zemmel with all surgical patients and also performs cosmetic injectables, like BOTOX® Cosmetic and dermal fillers. She combines her clinical expertise with her passion for helping patients to create an exceptional patient experience. 
Alicia earned her RN degree from what was formerly known as Richmond Memorial School of Nursing, after which she continued to Virginia Commonwealth University to complete her Bachelor of Nursing. Upon graduating, she attended the University of Virginia School of Nursing, earning her master's in Nursing. To begin her professional career, Alicia joined the Cardiovascular Center of Hampton Roads in Newport News, later returning to Richmond to train in orthopedics and spine care. She spent more than 15 years practicing in these specialties and five years focusing on spine procedures. 
Outside of her work at Richmond Aesthetic Surgery, Alicia can be found with her family: her husband, Drew; daughters, Anna and Reese; son, Xander; and dog, Archie. She also enjoys volunteering at Comfort Zone Camp. Alicia strongly believes in following a healthy lifestyle and likes to stay active, eat a nutritious diet, and practice other forms of self-care.