Breast Reconstruction
What Is Breast Reconstruction?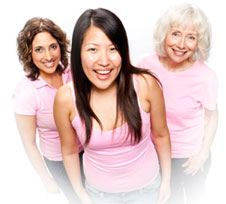 Breast reconstruction is a surgical procedure performed to recreate one or both of the breasts after a mastectomy or double mastectomy. Depending upon your individual circumstances, our breast augmentation surgeons, Neil J. Zemmel, MD, FACS, and Karishma Reddy, MD, can perform reconstruction during the same surgery as your mastectomy so you do not ever need to experience the absence of a breast (direct to implant single stage reconstruction). For women who have been diagnosed with breast cancer and require a mastectomy, there are many reconstruction options available that feel and look natural. Most of our patients at Richmond Aesthetic Surgery believe that breast reconstruction has not only restored their physical appearance, but also improved their overall quality of life.
Dr. Zemmel and Dr. Reddy find breast reconstruction one of the most rewarding plastic surgery procedures they perform.
What Are the Types of Breast Reconstruction?
There are two main techniques Dr. Zemmel and Dr. Reddy employ for breast reconstruction surgery: reconstruction using breast implants or reconstruction using your own soft tissue (fat grafting).
Breast Reconstruction with Implants
With the help of a tissue expander, the remaining skin and muscles of the chest are gently stretched to receive an implant like those used in breast augmentation. The tissues are expanded gradually with weekly saline injections over the course of 6-12 weeks to create a new breast pocket for the permanent implant. Once the skin and muscles are sufficiently expanded, the permanent saline or silicone implant will be inserted. Sometimes referred to as prosthetic breast reconstruction, this technique does not require tissue from a donor site and consequently involves no donor site scarring. With a direct-to-implant single-stage reconstruction, there is no need for a tissue expander, and the operation can be completed at the same time as the mastectomy.
Breast Reconstruction with Fat Grafting
Flap reconstruction, also called autologous tissue reconstruction, uses fatty tissue from another part of your body to re-form the breast. Common donor sites include the abdomen, lower back, or buttocks. Once grafted, these tissues grow naturally with the rest of the body. Unlike implant reconstruction, there is no risk of implant rupture or implant maintenance required. Breast reconstruction with fat grafting can also achieve results that look and feel more like natural breasts. This option may also better achieve symmetrical results for women who require reconstruction on only one side.
In some cases, a combination of these two techniques can be performed. Since breast reconstruction is such a complex, personal decision, Dr. Zemmel and Dr. Reddy use the consultation as a time to understand your specific concerns and goals. To help you weigh the advantages and limitations of each option, they will make recommendations based on your unique body proportions, medical history, overall health, and whether or not you will undergo chemotherapy or radiation. Many patients are still able to have chemotherapy or radiation therapy after breast reconstruction, and this surgery should not impact your doctor's ability to detect cancer recurrence.
I required bilateral mastectomies because of breast cancer. Dr. Z's caring, guidance, and advice gave me results I never dreamed of! I am happier now with my body (at 55) than I was in my 30's! I am SO glad I listened and took his advice. His concern and expertise are unmatched!

elizabeth chapman

June 11, 2012

12345
What Are My Nipple and Areola Reconstruction Options?
Although not a necessary part of breast reconstruction, Dr. Zemmel and Dr. Reddy can use a variety of techniques to reconstruct the nipple and areola for more natural-looking results. This is typically the last stage of the procedure and is performed about two to three months after the final shape of the breast or breasts is achieved. Some women choose surgical reconstruction of the nipple, in which case your surgeon will use local skin and fat tissues to create a nipple at the center of the new breast mound, located at the point of greatest projection. Once the healing process is complete, a new areola can then be tattooed to match the size and pigment of your natural areola. Other women may simply choose to tattoo a new areola and skip the surgical reconstruction of the nipple.
What Is the Breast Reconstruction Recovery Time?
Since breast reconstruction is typically completed in multiple stages, the entire process can take up to one year depending upon your unique circumstances. The recovery time will vary accordingly. When reconstruction is not performed the same day as the mastectomy, patients will need to wait about three months before beginning reconstruction surgery. If breast reconstruction is performed with implants, patients usually wait 10-14 days before resuming their normal activities. Any strenuous physical activity should be avoided for at least two to four weeks to allow the body to heal. If breast reconstruction is performed with fat grafting, the recovery time is about four weeks. Your surgeon will provide more detailed instructions about your recovery during the preliminary consultation, based upon your customized surgical plan.
What Can I Expect with my Breast Reconstruction Results?
As you recover from your breast reconstruction surgery, it can take about 6 months to a year for your final results to be noticeable. This is due to the time it takes your body to completely heal, as swelling may take several months to subside. After reconstruction your breasts will most likely look differently than before, due to the cancerous tissue that was removed. Since no result can be guaranteed, your surgeon will help you understand what you can realistically expect from your results prior to surgery to ensure you know what to expect. As your breasts gradually heal, you may notice slight irregularities that develop. This is because it is typically better to perform minor revisions later on, than provide over-operation during the original reconstructive procedure.
What Will My Scars Look Like After Breast Reconstruction?
Scarring is unavoidable from any surgical procedure, including breast reconstruction. If you undergo a flap reconstruction, you will have scars at both the donor site (typically lower abdomen) and on the breast. Your surgeon will carefully reconstruct the breast to utilize any existing incision lines from tumor removal, when possible. Over the course of the first year, your scars should continue to fade and flatten.
What Complications Are Associated with Breast Reconstruction?
During your consultation your surgeon will go over the risks associated with your breast surgery. Possible complications that can occur following breast reconstruction include bleeding and infection, which are both very rare, as well as failed tissue grafts (flap reconstruction) or capsular contracture (around implants). Keep in mind that reconstruction cannot correct a loss of sensation that resulted from breast cancer surgery; however, with time some feeling may return.
Your safety is Dr. Zemmel's and Dr. Reddy's top priority, which is why they take every precaution to ensure the surgical risks of your reconstruction are minimized.
How Much Does Breast Reconstruction Surgery Cost?
Health insurance providers are required to cover the cost of breast reconstruction since the Women's Health Care and Cancer Rights Act (WHCRA) passed in 1998. Covered procedures include mastectomy, reconstruction of the breast, breast surgery on the unaffected breast to enhance symmetry, and nipple/areola reconstruction. Patients may still be responsible for co-pays and deductibles according to their individual health insurance plans. If you would like assistance navigating your insurance benefits, a member of our staff can assist you. Plastic surgery financing options are also available for patients who could benefit a flexible monthly installment plan.
How to Choose a Breast Reconstruction Surgeon
Finding the right plastic surgeon for your breast reconstruction procedure is essential for your safety, comfort, and overall satisfaction. If you meet with a surgeon and are not sure if they are right for you, it is always a good idea to get a second opinion to see if another physician is better suited for your needs. During your consultations, ask as many questions as you need to get to know the surgeon and their experience with breast reconstruction. You should be confident in your surgeon's abilities and also feel comfortable when talking with them about your course of treatment.
Questions to Ask Your Breast Reconstruction Surgeon
Once you have found a plastic surgeon, you will want to ask a variety of questions to understand their qualifications. See below for possible questions that can help you get to know them:
How many years have you been practicing plastic surgery?
How often do you perform breast reconstruction surgery?
Do you perform breast reconstruction in an accredited surgical facility or in the hospital setting?
What techniques do you offer for breast reconstruction?
Am I a good candidate for breast reconstruction?
Would you recommend two-stage reconstruction or single-stage reconstruction for me?
Do you have breast reconstruction before-and-after photos of your previous patients that I could see?
What risks and complications should I know about before my breast reconstruction?
Contact Us
Dr. Zemmel, Dr. Reddy, and our team take great pride in helping women recovering from breast cancer restore their sense of femininity and confidence through reconstructive procedures. Our goal is to provide compassionate care while ensuring you are comfortable at every stage of your treatment and are well-informed about your care. If you would like to schedule an appointment to discuss how breast reconstruction can help you achieve your goals after a mastectomy, please contact our office today.