Breast Reconstruction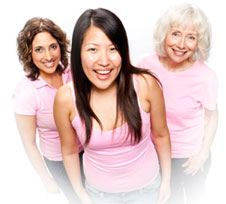 For women who have been diagnosed with breast cancer and require a mastectomy, there are many options available to reconstruct a breast that feels and looks natural. Dr. Neil J. Zemmel finds breast reconstruction one of the most rewarding plastic surgery procedures he performs. Most of our patients at Richmond Aesthetic Surgery believe that breast reconstruction has not only restored their physical appearance, but also improved their overall quality of life.
Since breast reconstruction is such a complex, personal decision, Dr. Zemmel uses your consultation as a time to understand your specific concerns and goals. To help you make a decision, he will make recommendations based on your unique body proportions, medical history, and whether or not you will undergo chemotherapy or radiation. Many patients are still able to have chemotherapy or radiation therapy after breast reconstruction, and this surgery should not impact your doctor's ability to detect cancer recurrence.
I required bilateral mastectomies because of breast cancer. Dr. Z's caring, guidance, and advice gave me results I never dreamed of! I am happier now with my body (at 55) than I was in my 30's! I am SO glad I listened and took his advice. His concern and expertise are unmatched!

elizabeth chapman

June 11, 2012

12345
There are two main techniques Dr. Zemmel employs for breast reconstruction surgery: reconstruction using implants or reconstruction using your own soft tissue. With the help of a tissue expander, the remaining skin and muscles of the chest are gently and gradually stretched to receive an implant like those used in breast augmentation. Flap reconstruction, also called autologous tissue reconstruction, uses fatty tissue from another part of your body to re-form the breast. In both cases, Dr. Zemmel can also reconstruct the nipple and areola for more natural-looking results.
In addition, depending upon your individual circumstances, Dr. Zemmel can perform breast reconstruction during the same surgery as your mastectomy so you do not ever need to experience the absence of a breast.
For more detailed information on breast reconstruction, click here.
Contact Us
If you would like to schedule an appointment with Dr. Zemmel to discuss how breast reconstruction can help you achieve your goals after a mastectomy, please contact our office today.