Breast Augmentation
What Is Breast Augmentation?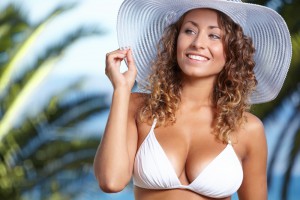 Breast augmentation is one of the most popular procedures at Richmond Aesthetic Surgery. With nearly 300,000 breast augmentations performed in the United States alone in 2019, more and more women are turning toward this procedure for a fuller and more proportionate bust. Over the past 40 years, breast implant options, surgical techniques, and even the consultation process have continued to advance, allowing our breast augmentation surgeons, Dr. Neil J. Zemmel and Dr. Karishma Reddy, to achieve beautiful and natural-looking breast augmentation results for many of their patients. Full, symmetrical, and proportionate breasts can help clothing fit better, boost self-confidence, and give your body a more youthful appearance.
Why Choose Breast Augmentation?
Our patients at Richmond Aesthetic Surgery choose breast augmentation for a wide variety of reasons. While increasing the size and volume of the breasts is certainly a major goal of many patients, there are a number of other common concerns women wish to address with breast augmentation, including:
Creating better symmetry between the breasts
Repositioning the nipple and areola
Correcting breast abnormalities
Restoring lost volume after pregnancy and breastfeeding
Improving the fit of clothing
Increasing self-confidence
Breast augmentation surgery has a very high patient satisfaction rate and a low complication rate when performed by a board-certified plastic surgeon.
Your surgeon will review your medical history and determine if you are a candidate for breast augmentation surgery. Patients seeking breast augmentation should be in relatively good health without significant medical issues. If you are a good candidate for the procedure, your surgeon will work with you to design a surgical approach that is custom-tailored to address your unique concerns and meet your expectations.
Am I A Candidate For Breast Augmentation?
Women who desire fuller, more symmetrical breasts that are proportionate with their individual body type can often benefit from breast augmentation. Ideal candidates for this procedure are typically those who are in good health, lead a relatively active lifestyle, and maintain healthy eating habits.
During the consultation process, one of our board-certified plastic surgeons will perform an examination as well as review your medical history to determine if breast augmentation is the best procedure to achieve your personal aesthetic goals. In some cases, you may be recommended a combined breast lift with implants in order to achieve the results you desire. This will depend on your overall size and shape, the quality of your skin, and the position of the nipple.
I had the best experience with Dr Zemmel and his staff. They were very caring and reassuring thru out the whole procedure. Very through and very knowledgeable. They answered questions before I could ask them, which made me very comfortable and assured that I was getting the best care. My Breast Augmentation turned out better than I expected. I am very happy with the outcome. I highly recommend Dr. Zemmel and his caring staff.

Tj P

May 05, 2016

12345
What Is the Best Age for Breast Augmentation?
While many women choose to get breast implants in their 20s and 30s, Dr. Zemmel and Dr. Reddy have performed the surgery on countless patients in their 40s and older. In fact, our team's oldest breast augmentation patient was 71 years old when she received her implants, and she was thrilled with her new look.
In general, patients should be at least 18 years of age for saline implants and 22 for silicone implants. Beyond those minimum age requirements, patients should be in generally good health and have good skin quality to ensure they receive the best possible outcome.
What Can I Expect in the Breast Augmentation Consultation?
Dr. Zemmel and Dr. Reddy believe that each breast augmentation procedure requires a custom-tailored approach to meet the needs and desires of every unique patient. Since they do not believe in a "one-size-fits-all" approach, our surgeons will spend time getting to know your goals and expectations regarding your final look. This will guide them to determine the best way to approach your individual procedure. A complete breast augmentation consultation with our surgeons last approximately one hour.
Dr. Zemmel's and Dr. Reddy's goal during the breast augmentation consultation is to educate you with regards to the different breast implant types, sizes, and shapes and different surgical approaches available. This will allow you to make the most informed decision for your procedure.
If you decide to proceed with surgery you will have another full consultation. This gives you another opportunity to ask additional questions and to finalize your implant choice. Dr. Zemmel and Dr. Reddy are always available to address your concerns and to make sure you are completely comfortable with the procedure. At the end of your time, you should feel confident in your decisions regarding the procedure and have all of your remaining questions answered.
What Types of Breast Implants Are Available?
Selecting an implant size and type is one of the most important decisions you will make during your consultation, and our surgeons are here to help you navigate your breast implant options. In addition to choosing the right size and profile of your saline or silicone breast implants, there are different advantages to consider when considering textured or smooth, and round or anatomically shaped implants.
LEARN ABOUT BREAST IMPLANT OPTIONS
How Should I Prepare for My Breast Augmentation?
To prepare for your breast augmentation surgery, your surgeon will provide you with a packet of pre-operative instructions. It is particularly important for patients to stop smoking a minimum of two weeks before your scheduled surgery. If you are having a breast lift with your breast augmentation or a body contouring procedure, such as in a mommy makeover, you will be asked to cease smoking a minimum of 4 weeks in advance. You will also be given a list of medications to avoid before your procedure. This list includes medicines such as aspirin, ibuprofen, naproxen, and others that may increase the risk of bleeding.
How Is the Breast Augmentation Procedure Performed?
Breast augmentation typically takes less than an hour to complete and is considered less invasive than many other surgeries. Your comfort and safety during the procedure are Dr. Zemmel's and Dr. Reddy's primary concerns. All breast augmentation surgeries performed by our surgeons take place in a fully accredited operating room, and board-certified anesthesiologists as well as board-certified registered nurse anesthetists administer all anesthesia.
By having the surgery performed in a hospital and under the care of highly qualified professionals, patients are in the safest possible environment, and should a rare complication occur, the full resources of the hospital are available.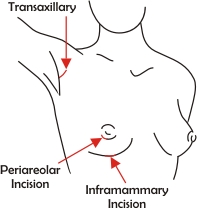 Conceptually, a breast augmentation is a procedure to create a soft tissue pocket to accommodate a breast implant. There are a number of techniques available to create this pocket, and your surgeon will tailor your procedure specifically to your shape and body structure. The breast augmentation incision location (Inframammary, Periareolar, or Transaxillary) as well as the pocket location (Submuscular, Subglandular, or Dual Plane) and implant type will play a major role in the appearance of your final results.
Dr. Zemmel and Dr. Reddy typically use the no-touch Keller Funnel system to place implants, which increases patient safety and the efficiency of the procedure. They will discuss the surgical approach they will use for your procedure during the consultation process so that you can choose a technique that will make you feel comfortable, as well as provide you with the cosmetic results you desire.
LEARN ABOUT THE SURGICAL TECHNIQUES USED
What Complications Are Associated with Breast Augmentation?
Just as complications can occur with any surgery, breast augmentation can lead to certain side effects, which is why it is essential that you select a board-certified plastic surgeon, follow post-operative care instructions, and attend follow-up visits so your healing can be monitored. Dr. Zemmel and Dr. Reddy take every precaution to minimize your risks during and after breast augmentation surgery, including operating in a surgical setting and working with board-certified anesthesiologists and board-certified registered nurse anesthetists. They also employ highly safe techniques and uses state-of-the-art materials to ensure a successful outcome. Throughout your recovery, your surgeon will be in close contact with you to ensure you are healing well and not showing signs of any abnormal side effects.
Rare complications include bleeding and infection (occurs less than 1% of the time), capsular contracture (occurs in 2-4% of patients), asymmetrical breast results, and a widened scar appearance. Before surgery, your surgeon will discuss how to minimize the risk of complications and what to do if you think you are developing any of these.
What Is Breast Augmentation Recovery Like?
Recovery from a breast augmentation comes from your soft tissues (your breast tissue, skin, and pectoralis muscle) stretching to accommodate the implant. The majority of Dr. Zemmel's and Dr. Reddy's patients have mild to moderate discomfort after surgery, which resolves in 5 to 7 days. To alleviate any post-operative discomfort, you will be prescribed muscle relaxants and analgesics that you can fill before the day of your surgery.
Many patients liken the feeling after breast augmentation to the muscle soreness you would feel after an intense workout.
Dr. Zemmel and Dr. Reddy take great care while performing the operation and uses a "gentle hand" to reduce any associated downtime as well as the visibility of any scars. With their years of experience and skill, they strive to minimize tissue trauma and allow for a swift recovery. Patients typically feel completely recovered within 5 to 7 days of their procedure. During this period, you will have a couple of follow-up visits with your surgeon to monitor your healing.
Following the first week of your recovery, you will also be instructed on how to perform post-operative breast massage. This massage is intended to break up any developing scar tissue and keep your implants looking and feeling natural. Dr. Zemmel and Dr. Reddy recommend that their patients practice this massage technique three times a day for about three months to optimize the results of their procedure.
When Will I See My Breast Augmentation Results?
Although you should notice an immediate change after your breast augmentation, the final results of your procedure will not be visible for several weeks. At first your breast implants may appear higher on the chest, due to swelling causing the area to tighten, but as the body heals, any swelling should dissipate and your implants will "drop" or settle into their final position. While it can be exciting to look at your results immediately after surgery, Dr. Zemmel and Dr. Reddy encourage their patients to be patient and know that healing can take several weeks or months before they can see the final outcome of their breast augmentation.
What Will My Breast Augmentation Scars Look Like?
The location of your scarring after breast augmentation surgery will depend upon the technique used for your implant placement. For example, if your implant is placed through a periareolar incision, you will have a scar bordering the areola. Whereas, a transaxillary incision produces a scar in the underarm area, and an inframammary incision leaves a scar in the natural crease beneath the breast fold. Dr. Zemmel and Dr. Reddy take great care to make incisions as small as possible to ensure minimal scarring after surgery. The incisions should heal quickly, and with the use of topical scar treatments recommended by your surgeon, any scars should soften and fade during this time.
Depending upon your incision type, you may not see many signs of visible scarring after just a few months. Scars are typically completely healed by one year.
Will I Be Able to Breastfeed After Breast Augmentation?
Those considering having children in the future often have concerns of whether they will be able to breastfeed after getting breast implants. Generally speaking, if a patient has the ability to produce milk before breast augmentation, they should still be able to breastfeed after, as well. When the procedure is performed by a qualified plastic surgeon, the techniques used for your surgery should help preserve the function of your milk ducts for the future. If you have any questions or concerns regarding breastfeeding after breast augmentation, please do not hesitate to ask your surgeon before your procedure. They can explain the precautions they take to minimize associated risks during surgery.
How Much Does Breast Augmentation Cost?
On average, breast augmentation ranges from about $7,700 to $8,200 at Richmond Aesthetic Surgery. Many variables can influence this total cost, including the implant type, implant placement, incision type, and overall complexity of the procedure. Since each woman chooses to undergo breast augmentation for personal reasons, Dr. Zemmel and Dr. Reddy customize each procedure based upon the wants and needs of the individual. As a result, there is no set price for breast augmentation. When comparing the cost of breast augmentation surgeons, keep in mind that the experience of the plastic surgeon as well as your geographic location can also affect the total price.
At the conclusion of your preliminary consultation, your surgeon will be able to provide you with a personalized quote for your custom breast augmentation, based upon your physical exam and a discussion of your cosmetic goals. This will include all of the fees associated with your procedure, such as the operating room fees, anesthesia fees, implant costs, garments, and surgeon's fees. All postoperative care is also included.
For patients seeking flexible methods of payment, our plastic surgery financing options can offer qualifying patients low monthly installment plans with little to no interest. Our lending partners also offer co-signing options. To learn more about financing the cost of your breast augmentation, please contact a member of our staff today.
Do I Need a Breast Augmentation with a Lift?
A breast augmentation is designed to increase the size of the breasts and restore lost volume. While the shape of the breasts is typically improved with breast augmentation and the breasts may achieve a small "lift" due to increased volume, the procedure does not address excess skin or moderate to severe sagging of the breasts. For patients with skin around the breasts that has lost elasticity due to weight fluctuations, pregnancy, breastfeeding, or simply the natural aging process, combining breast augmentation with a breast lift can achieve a more complete rejuvenation. During the consultation process, your surgeon can recommend which breast surgery technique can best achieve your goals.
LEARN ABOUT A BREAST LIFT WITH IMPLANTS
Breast Implants vs. Fat Grafting for Breast Augmentation
While implants are the most popular method of surgically enhancing breast size, advancements in plastic surgery have allowed for the alternative of fat transfer to become a viable option for many patients. This process involves extracting excess fat via liposuction from a donor area of the body, such as the hips or abdomen, and then preparing and reintroducing it to the breasts. This breast augmentation technique can produce an especially natural look and feel to the breasts, though a portion of the transferred fat is absorbed by the body over time. This makes it more difficult to get a significant increase in breast size by only using one's own fat. However, the technique can provide beautiful results for candidates wanting more subtle results.
Breast implants, on the other hand, can provide a larger breast enhancement that many women desire. Dr. Zemmel and Dr. Reddy offer a variety of implant types, shapes, and sizes to fully customize the breast augmentation procedure according to each patient's aesthetic goals. Although breast implants come with their own limitations, just like fat transfer, implants have been refined for decades to ensure optimal safety and provide natural-looking outcomes.
Each augmentation method comes with its own pros and cons, and your surgeon can discuss these with you during your consultation to help you find the most beneficial procedure.
LEARN MORE ABOUT BREAST AUGMENTATION WITH FAT GRAFTING
How to Choose a Breast Augmentation Surgeon
Finding a qualified plastic surgeon for your breast augmentation is vital for achieving your desired results and ensuring a safe procedure. When researching and consulting with professionals, try to find a plastic surgeon that offers the following qualities:
Board certified by the American Board of Plastic Surgery†
Experienced with breast augmentation
Can show you before-and-after photos of their patients
Is honest about the benefits and limitations of your procedure
In addition, you should always feel comfortable with your plastic surgeon, knowing they have your best interest at heart. If you ever begin to question a surgeon's skill, that might be a sign you should keep looking for the right one. As you go through your breast augmentation journey, you should be able to develop a relationship with your surgeon, trusting their expertise and being able to openly communicate with them.
LEARN MORE ABOUT CHOOSING A BREAST SURGEON
Contact Us
To learn more about breast augmentation at Richmond Aesthetic Surgery, or to schedule a consultation, please contact our office today.