How Soon Before Surgery Should I Quit Smoking?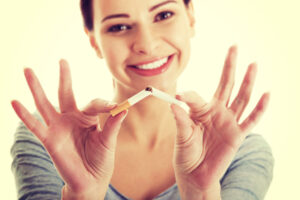 When it comes to preparing for plastic surgery, a number of precautions should be taken to ensure your safety and a smooth recovery. Among the different pre-operative instructions our plastic surgeon advises patients to follow is refraining from smoking. Dr. Neil J. Zemmel recommends patients planning to undergo surgery quit smoking as soon as possible. At the very least, he says patients should quit smoking six weeks before their scheduled surgery date.
Whether you are undergoing a facelift, breast augmentation, tummy tuck, or other procedure, smoking (or any form of nicotine) can have an adverse effect on wound healing. Since plastic surgery often involves intricate work above and below the skin, any complications with the healing process can lead to suboptimal results. Smoking is known to increase the risk of incision breakdown, slow healing, additional pain, thick scars, and blood clots. This is why Dr. Zemmel urges those who currently smoke and are considering a plastic surgery procedure to quit sooner rather than later.
In addition to ceasing a smoking habit before surgery, it is also important to continue being smoke-free after surgery, as well. In general, Dr. Zemmel instructs patients to refrain from smoking at least six weeks before and after their plastic surgery. By doing so, they can avoid the unnecessary risks that come with having nicotine in their system while trying to heal from surgery.