Your Consultation
A one-on-one consultation with Dr. Neil J. Zemmel or Dr. Karishma Reddy can determine if you are a good candidate for breast surgery. During this initial consultation, Dr. Zemmel or Dr. Reddy will ask you about your specific cosmetic goals, as well as perform a physical examination to help determine which approach to breast surgery can best meet your needs. You should also inform your surgeon about any prior medical issues with your breasts, including mammogram studies, surgery, or family history of breast disease. Since breast augmentation, breast lift, and breast revision procedures can vary greatly depending upon the patient, your surgeon will spend a significant amount of time during the consultation to help ensure that you share the same expectations about your particular procedure.
Dr. Zemmel and Dr. Reddy view the consultation process as a time to thoroughly inform you of all available options, ultimately enabling you to make well-educated decisions about your body and health.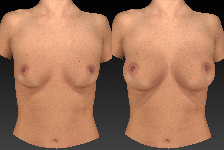 Clear doctor-patient communication is a vital component to achieving a satisfying outcome and beautiful, natural-looking results. In addition to answering your questions and addressing your concerns, your surgeon will show you a breast surgery gallery where you can view before-and-after photographs of the results of some of our patients. If you are considering breast augmentation, a form-fitting shirt combined with interchangeable breast implants will also allow you to "try on" a range of shapes and sizes. If you wish to learn about the experiences of our past breast surgery patients at Richmond Aesthetic Surgery, you can read their stories here. After discussing your goals and expectations with your surgeon during the consultation, they will design a custom-tailored approach to your breast surgery for results that can help you achieve your goals.

To schedule a consultation and see if you are a candidate for breast surgery, please contact our office today.