What If I Don't Like My Breast Augmentation Results?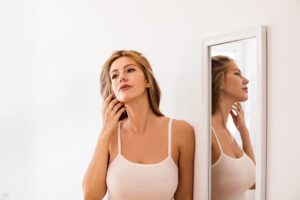 Although breast augmentation surgery has a very high success rate, some patients may find they are unhappy with their results. This is more common among less reputable surgeons who are not experienced with the procedure, have employed outdated techniques, and do not factor in the unique goals of each patient. Alternatively, a patient may second-guess the choices they made while planning the procedure, such as implant size or materials. To prevent such issues, we recommend you put your trust in an experienced, distinguished plastic surgeon, such as our very own Dr. Zemmel or Dr. Reddy. They are well-versed in breast augmentation and work closely with each patient to ensure they achieve their desired results. If you wish to alter the outcome from a previous breast augmentation, our surgeons have helped numerous women correct their results from another practice through breast implant revision surgery.
We have found some of the most common reasons our patients seek revisions are: 
Asymmetrical or malpositioned breasts 
Capsular contracture (painful hardening of the scar tissue) 
Implant rupture
Unsatisfactory fullness, implant position, cup size, etc.
These complications are all considerably rare, but they are possible – especially when performed by less experienced or qualified surgeons. Our plastic surgeons take extra precautions to minimize your risk of any complications, as well as help you feel confident in your choices before surgery. While it can be upsetting to know you have spent so much time, money, and energy just to receive subpar augmentation results, our team can help you obtain the breast appearance you desire with a revision procedure.
Patients who come to Richmond Aesthetic Surgery for breast revision surgery consistently find their problems from the previous surgery are significantly improved, if not completely resolved. Dr. Zemmel and Dr. Reddy thoroughly take each patient's wishes into account and do their best to correct any issues from their previous surgery so you feel good about your appearance. Your safety and satisfaction are our top priorities. 
If you are interested in breast revision surgery, we invite you to contact our practice today.