Will Implants Improve my Breast Ptosis?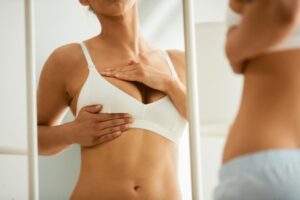 Breast implants can be a great method for adding and restoring structure and volume to your breasts. However, some individuals suffer from breast ptosis, which is a condition caused by a decrease in structural integrity and sagging or drooping breast tissue. In these cases, receiving breast implants alone is typically not enough to correct breast ptosis.
Those looking to improve sagging or drooping breast tissue will likely benefit from a breast lift. A breast lift can give patients a much improved appearance by tightening loose skin and contouring areas of the chest to provide a more youthful appearance. Breast implants alone are not usually enough to reverse breast ptosis; however, they can often be included in a patient's treatment plan to address other concerns. Breast augmentation with implants generally produces benefits that can include improved symmetry between breasts, a repositioning of the nipples and areolas, addressing overall breast concerns, increasing volume of the breasts potentially lost after pregnancy and breastfeeding, and increasing general self-confidence during everyday life.
For those looking to achieve a fuller breast appearance while improving sagging, a breast lift with implants may be the ideal choice. Breast implants can provide the sought-after volume and size a patient desires while the breast lift can improve sagging or loose skin in addition to raising the location of the areolas. A breast lift with implants procedure can take up to two and half hours with the patient under general anesthesia or deep sedation at the hospital.
So while breast implants on their own may not adequately reverse breast ptosis, breast augmentation paired with a breast lift can provide the repositioning, the restructuring, and the volume you need in one procedure. If you want to know more about breast implants, breast lifts, and breast ptosis, feel free to read further into our website, visit our blog, or contact our practice today!