Mommy Makeover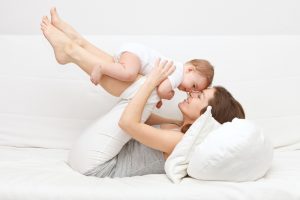 Becoming a mother can be one of the greatest joys in a woman's life. With this in mind, pregnancy, childbirth, breastfeeding, and raising children can put significant stress on the body and cause a number of changes to the body. For those who seek to achieve their pre-pregnancy figure, Dr. Neil J. Zemmel can design a customized mommy makeover for comprehensive rejuvenation.
What Is a Mommy Makeover?
A mommy makeover is an overarching treatment plan that involves multiple procedures designed to reverse the effects of pregnancy on the body. Common cosmetic concerns that mothers often want to address include excess skin, isolated fat deposits, abdominal muscle laxity, sagging breasts, and signs of facial aging. By working with Dr. Zemmel for their mommy makeover, women can restore their pre-baby body, diminishing the unwanted changes they have experienced after having children.
What Can a Mommy Makeover Do?
Each mommy makeover is tailored to meet the unique needs and expectations of the patient. Typically, a mommy makeover combines multiple cosmetic procedures to target the specific areas of concern. These areas can include the breasts, abdomen, flanks, thighs, and face. Dr. Zemmel takes care to create a natural-looking aesthetic and avoid an "overdone" appearance. The following goals can often be achieved through mommy makeover surgery:
Remove and/or tighten loose skin
Lift the breasts and restore depleted volume
Repair stretched or torn abdominal muscles
Smooth fine lines and wrinkles in the face
Improve the appearance of stretch marks
Eliminate stubborn fat deposits around the body
The specific procedures that are most appropriate for your unique concerns will be discussed with you during your consultation with Dr. Zemmel. During this visit, he will discuss your aesthetic goals, perform a physical examination, and go over your medical history to determine your candidacy as well as plan the details of your treatment plan.
Who Is a Good Candidate for a Mommy Makeover?
Candidates for the mommy makeover should be in generally good health and have realistic expectations about what they can achieve through surgery. Although a mommy makeover can help restore one's pre-pregnancy figure, the procedures are intended to simply improve common concerns that women have and may not completely eliminate all changes caused by pregnancy and childbirth. Dr. Zemmel will help you understand what you can realistically accomplish through surgery. Please keep in mind that no results can be guaranteed.
When Is the Ideal Time for a Mommy Makeover?
Whether it has been a couple years or even decades since you had children, you may be able to benefit from a mommy makeover. Women wanting to restore their pre-baby body sooner rather than later should wait at least six months after their delivery to undergo mommy makeover surgery. It is also common for women to wait several years before committing to their mommy makeover, as they may still be considering having more children or do not feel ready yet.
Although there is no ideal time to undergo a mommy makeover, Dr. Zemmel recommends that patients wait until they have completed their families before seeking the surgery. While mommy makeovers should not have any impact on your ability to get pregnant in the future, having more children after you have undergone a mommy makeover can compromise the positive results you have achieved.
What Does a Mommy Makeover Consist Of?
Breast Rejuvenation
While some women may find their breasts increase in volume during pregnancy, this fullness is often lost after childbirth and breastfeeding, in addition to other common changes such as enlarged areolas, sagging breasts, or a change in nipple position.

With an array of breast rejuvenation techniques, Dr. Zemmel can reposition the nipples and areolas, reshape the breasts, and restore lost volume.

"

Breast augmentation with silicone or saline implant options is the most common method of reversing the appearance of "deflated" breasts. Patients who also have excess skin or breasts that hang low on the chest wall may require a breast lift to achieve the results they desire. These two procedures are often combined to achieve a more complete rejuvenation.
Body Rejuvenation
The abdomen often remains a troublesome spot for women after pregnancy and childbirth – even for women who exercise regularly and maintain a healthy diet. Exercise is essential for preserving good muscle tone. However, excess skin, stretch marks, and stretched or torn abdominal muscles cannot typically be addressed with diet and exercise alone.
A tummy tuck is designed to eliminate excess skin around the abdomen and allows Dr. Zemmel to tighten and repair the muscles of the abdominal wall for a smoother, flatter stomach.
The navel can also be rejuvenated during this procedure if its appearance has changed during the course of a pregnancy. In some cases, liposuction may be used to target stubborn, isolated fat deposits around the abdomen to further enhance the results of the procedure.

Dr. Zemmel and his staff are awesome! I had liposuction of the abdomen and flanks and a breast reduction. I am so pleased with the results. I feel better and look better. I am only in to my 7th week of healing and I have already dropped 2 sizes in my clothes. What a feeling!!! I would strongly recommend Dr. Zemmel to anyone wanting to have 'body work' done. He is awesome.. The whole staff here is wonderful. They make you feel welcome and they truly care. I am looking forward to my new look.

Reece H

September 20, 2013

12345
Face and Skin Rejuvenation
In addition to common changes in the breasts and overall body shape, many women may feel they have experienced premature facial aging due to the many demands of motherhood. With the latest facial rejuvenation techniques, Dr. Zemmel can smooth fine lines and reduce the appearance of wrinkles. Non-surgical injectable treatments such as BOTOX® Cosmetic and JUVÉDERM® can soften lines around the eyes ("crow's feet"), minimize lipstick lines ("smoker's lines"), and replenish lost facial volume. For a more dramatic improvement to the area around the eyes, some patients choose to include blepharoplasty (eyelid surgery) as part of their mommy makeover to fully rejuvenate the eyes for a well-rested, youthful appearance.
Our professional laser treatments and skin care products can serve as the finishing touches for a mommy makeover. Sun damage, leg veins, and even C-section scarring can all be treated with our state-of-the-art lasers. Our medical-grade skin care lines can help you maintain healthy, glowing skin by addressing common concerns such as fine lines, skin discoloration, acne, or rosacea.
During the consultation process, patients can receive a customized skin care plan that is tailored to meet their unique needs.
What Is the Mommy Makeover Recovery Time?
The recovery from a mommy makeover greatly varies from patient to patient, since each treatment plan is highly customized to their personalized needs and goals. In general, patients typically require about two weeks for their initial recovery. After this time, they can often return to work and resume their normal schedule, though vigorous exercise should usually be avoided for several weeks. It is advised for patients to arrange for help around the house and with caring for their children for the first few days of their recovery, as they may have limited mobility.
Most procedures involved in a mommy makeover result in some degree of swelling, bruising, and soreness for the initial healing period. Throughout their recovery, Dr. Zemmel and our staff will see patients for multiple follow-up appointments to ensure they are healing properly.
How Much Does a Mommy Makeover Cost?
The cost of a mommy makeover will vary greatly based on which procedures are performed. In addition, the complexity of the surgery, the surgeon's fee, anesthesia, and other associated fees will all contribute to your total cost. During your consultation, our team will provide you with a personalized quote based on your custom treatment plan. If you have any questions about your mommy makeover cost or would like to learn about our plastic surgery financing options, Dr. Zemmel and our team would be happy to help.
Contact Us
To learn more about mommy makeover procedures at Richmond Aesthetic Surgery, or to schedule a consultation, please contact our office today.