Breast Implants vs. Breast Fat Transfer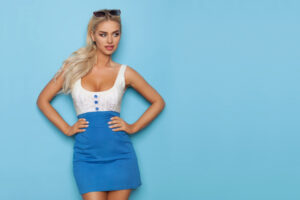 Have you been wanting to increase your natural breast size? Or maybe you've had children and want to restore your breasts to the fuller, perky appearance they once had before pregnancy and breastfeeding. Despite which reason you may relate to, breast augmentation may be a beneficial solution that can help give you a boost in self-confidence. In addition to a wide range of breast implant options, our board-certified plastic surgeon, Dr. Neil J. Zemmel, offers the innovative technique known as breast fat transfer.
Unlike breast implants, which entail a silicone shell filled with either saline or silicone material, breast fat transfer is a more natural form of breast augmentation that uses fat cells from one area of excess, which are then redistributed to the breasts. Each method of enlarging the breasts can provide beautiful results for the right candidates, but having a basic understanding of the benefits and limitations of each procedure can help you determine which option may be better for your needs.
Saline and silicone breast implants have been used for decades to create the fuller, more shapely breast appearance many women desire. With the many versions available — including implant type, shape, projection, and size — the procedure is highly customizable to the unique aesthetic goals of each patient. One downside to breast implants, however, is that they are not lifetime devices and typically need to be replaced after 10 to 15 years. Considering this long lifespan and the noticeable improvement many women see in their breast appearance, breast implants have continued to be one of the most popular cosmetic procedures performed each year with an incredibly high rate of patient satisfaction.
Breast fat transfer is a newer technique designed to create an especially natural-looking breast augmentation by using a patient's own fatty tissue. This process entails removing excess fat via liposuction, preparing a purified form of it, and reinjecting it into the breasts to enhance their shape and size. Fat transfer offers the additional benefit of body contouring in another area, such as the flanks, abdomen, or thighs. While there are many benefits to this natural breast augmentation, there are certain limitations to the procedure, as well. This includes the approximately 30% of transferred fat being resorbed. As a result, fat transfer is typically more appropriate for patients wanting a more subtle increase in their breast size.
Dr. Zemmel has helped numerous women feel a renewed sense of self-esteem by enhancing their body proportions through procedures like breast augmentation with implants or fat transfer. If you would like more information about either type of breast surgery, please contact us at Richmond Aesthetic Surgery to schedule your consultation with Dr. Zemmel.