How Old Is Too Old For Breast Augmentation?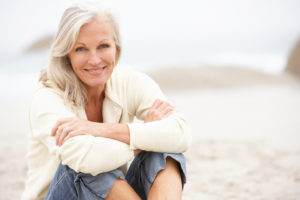 A common question women tend to ask about breast augmentation is whether there are recommended age restrictions for the procedure. There is an age minimum for breast augmentation candidates: patients must be at least 18 years old for saline implants or 22 for silicone implants. However, there is no upper age restriction for breast augmentation. While many women in their 20s and 30s undergo the procedure, Dr. Neil Zemmel also performs breast augmentation for patients in their 50s, 60s, or even later in life. In fact, his oldest patient who received breast implants is 71 years old, and she loves her results!
The overall health of the patient as well as their expectations are the main criteria for determining candidacy for breast augmentation – not age. During the preliminary consultation process, Dr. Zemmel will carefully review each patient's medical history and perform a physical examination to gauge the risk of complication based upon health. Dr. Zemmel also listens to each patient's unique cosmetic goals to make sure expectations are realistic. While women in their 20s or 30s often seek breast implants to increase the size of the breasts, many women who are in their 40s or older wish to restore lost breast volume. Some women also want to eliminate excess skin or sagging of the breasts for a more youthful appearance. In these cases, Dr. Zemmel can combine breast augmentation with a breast lift for a more comprehensive rejuvenation.
To learn more about breast augmentation, or to schedule an appointment with Dr. Zemmel, please contact our office today.