Natrelle® 410 "Gummy Bear" Implants
Individuals seeking breast augmentation at Richmond Aesthetic Surgery have several implant options from which to choose. In addition to offering traditional smooth round saline and silicone implants, our experienced breast augmentation surgeon, Dr. Neil J. Zemmel, has been specially trained to perform surgery with Natrelle® 410 shaped textured implants by Allergan – also known as the "gummy bear implant." After training under the renowned plastic surgeon Dr. Charles Randquist of Stockholm, Sweden who is known for his expertise in achieving excellent results with the Natrelle® 410 implant, Dr. Zemmel is pleased to offer the highly cohesive, form-stable implants to his patients.
Dr. Zemmel is one of the few surgeons in the region who currently offers Allergan's highly cohesive silicone implants for cosmetic enhancement. As the Natrelle® 410 continues to gain popularity, he believes more women can benefit from its unique qualities, as these gummy bear implants have proven to offer overall enhancement outcomes.
Why are they called "Gummy Bear" implants?
The Natrelle® 410 breast implants were nicknamed "gummy bear" because of their highly cohesive silicone filler material. Unlike traditional implants, Allergan's gummy bear type involves more cross-linking of the silicone molecules within the implant. This creates a firmer implant, and as a result, the silicone is able to maintain its shape despite the patient's position. With its form-stable structure, Natrelle® 410 is less prone to rippling and creates a more natural breast tear-dropped shaped appearance.
What makes Natrelle® 410 implants different?
Allergan created Natrelle® 410 with the hope of making up for the shortcomings of previous implants styles. The gummy bear implants are unique in that the silicone filler is highly cohesive (level III cohesivity), the implants have an anatomic tear-dropped shape, and the implants have a textured surface. Due to the form-stable nature of the teardrop-shaped implants, patients do not experience the loss of upper pole fullness when in the vertical position. The additional cross-linking of silicone ensures the implants preserve the natural breast contour without the internal material shifting and causing potential rippling. Natrelle® 410 implants have shown to provide a number of advantages over other options currently on the market.
Benefits of Natrelle® 410 Implants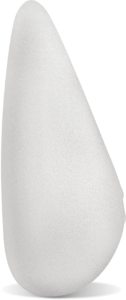 The strategic design of Natrelle® 410 silicone implants has proven to offer patients enhanced results and a lower risk of specific post-operative complications. In general, patients who opt for these gummy bear implants can expect to benefit from the following:
Teardrop shape to mimic natural upper slope of breast
Lower rate of rippling
Reduced rupture rate
Lower risk of capsular contracture
While not all women seeking breast augmentation are candidates for the Natrelle® 410 implant, Dr. Zemmel believes the various style options of the Natrelle® 410 can offer a wide range of individuals beautiful results that align with their ideal outcomes.
Size and Style Options for Natrelle® 410 Implants
Allergan Natrelle® 410 breast implants come in 12 different models. Each model offers projections in low, moderate, full, and extra. They also vary in height, with patients being able to choose from low, medium, or full. In addition, the width and volume can be customized to each patient's aesthetic goals to help them obtain beautiful results that perfectly complement their unique body structure.
Schedule Your Consultation
To learn more about gummy bear implants, please contact us to schedule your consultation with Dr. Zemmel.